For some years now we've been selling week-long sponsorships of Unshelved. We limit them to products and services we think would be relevant to our 75,000 readers, mostly librarians, teachers, and booksellers. They have been very successful for us, our sponsors, and our readers. A true win/win/win.
But there is one group we wanted to serve that never really fit with our model: authors and small publishers. Our front-page sponsorships are excellent value considering our large and targeted readership, but they simply cost too much for smaller budgets.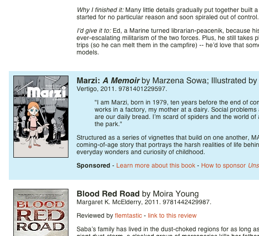 So we put our heads together a few months ago and thought hard about the problem. Who do authors and publishers really want to reach? That part of the Unshelved audience that buys books for libraries and bookstores. And where do they hang out? Why in the Unshelved Book Club, our weekly book recommendation site, of course! We tested out sponsored book placements and they were quite popular. Readers told us that they appreciated having even more books to discover.
So starting now you can sponsor the Unshelved Book Club. Your book is interleaved with our recommended books, highlighted in blue and clearly marked as a sponsored placement, and linked to the website of your choice for more information and/or purchase. It goes on our website, in our email delivery, and with our RSS feed. And it stays in our archive for a full year, fully discoverable and clickable, making it an even better investment.
We can't promise your book will become a bestseller, but we can put it in front of the friendliest possible audience, Unshelved's readers. It's easy to do (no banner required!) and the price is right. Interested? Drop me a line for more information.