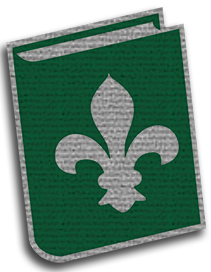 A week ago we launched our Library Ranger Badges Kickstarter. The next day we reached our baseline funding goal, and since then we have reached two more stretch goals. Now we are just a few hundred dollars away from giving a free Library Rangers logo patch to each pledge of two or more badge packs!
These badges resonate with all sorts of people. We have heard from managers planning on giving them to staff, library school professors planning on using them to teach concepts and skills, school librarians planning on awarding them to student helpers, and quite a few library workers planning on awarding them to themselves for a job well done. Exactly the sorts of applications we had in mind!
We're also gratified that our Library Rangers gear is so popular. Dozens of folks have selected the $105 bundle, which includes all the badges plus patch, cap, t-shirt, and neckerchief. We are very much looking forward to seeing Library Rangers roaming around next year's library conferences. Sounds like a jamboree to me!
We've got lots of great stretch goals ahead of us, so please continue to spread the word. In addition to free stuff like extra badges, I am looking forward to writing and recording the Library Rangers anthem, and I am happy to announce that Rita Meade (@ScrewyDecimal), who sings in the librarian band Lost in the Stacks, will be singing along with us if we reach that level of funding in the next two weeks.
No matter what, remember to always be informed.